3 Benefits Of Being A Land Surveyor
Being a surveyor can be an excellent and fulfilling career for those who like and enjoy working with different construction projects. The surveyors are mainly concerned with the land features and water boundaries. The land must be determined as suitable for construction before any type of building or housing complex is built.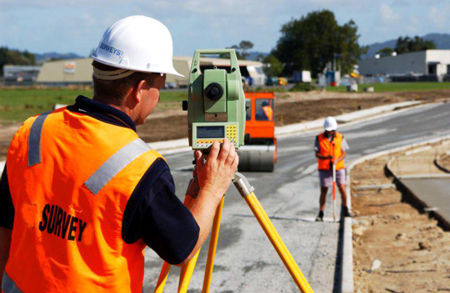 An experienced land surveyor measures, documents and analyzes geographical data which is going to be used for mapping and resolving boundary disputes. A land surveyor uses various kinds and types of surveying equipment like radar, laser or camera in order to gather important information about the land. Many land surveyors work for the government and for the local authorities, but the surveyors can also be employed by privately owned construction and real estate agencies. The city councils also look for surveyors when planning the locations where buildings or residential houses are going to be built. In short, a career in surveying certainly brings many positive benefits and advantages.
Working Outdoors – Unlike mapping professionals, surveyors have the opportunity to work not only in the office, but out on the field as well. The surveying professionals are exposed to different kinds of weather conditions when working outside. Depending on the location where the surveying process needs to take place, surveyors have the opportunity to see different natural beauties and landscapes. They travel to various locations in order to make measurements that are important for construction projects. A surveyor gets a chance to experience the world in a unique and exciting way. Also, they have important jib because they are needed to conduct and to complete all the necessary measurement, and to determine the path upon which the construction process will go.
Surveying With Newest Technology – Today, the surveyors are experiencing the benefits of the technological innovations. Unlike before, today the surveyors are working with new and modern surveying equipment like cameras, lasers, global positioning systems (GPS), geographic information systems (GIS). This modern and innovative surveying equipment enables surveyors to complete various types of surveying tasks and operations faster and to gather more accurate data. The surveyors get the chance to work with the technology of tomorrow today!
Salary And Financial Benefits – Well-educated and experienced surveyors are constantly in high demand, especially in Australia, both in larger cities and rural areas. It has been reported that the average salary of land surveyors in Australia is between 60 000 AUD and 80 000 AUD per year. The wages vary according to the level of skills, experience and employer. The employment of the surveyors grows each year with the ratio of 13%, and when compared with all other occupations and professions, it is expected to grow continually over the next several years.
These are just some of the many benefits that can be gained by being a land surveyor and they certainly make the surveying profession to be very attractive. If the benefits look appealing, you should consider becoming one skillful and highly respected surveyor.